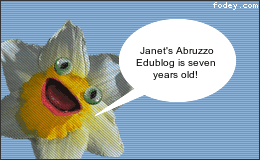 Seven whole years have passed since my world opened up in November 2008 and a new dimension was discovered. Blogging has brought me much joy and expanded my knowledge of the world. I have met many wonderful bloggers along the way, each and every one of them helping me to continue on this incredible journey.
I have been inspired to rescue this post from my drafts folder after reading
Natasa
's inspiring post:
My Blog is Eight Years Old.
I have discovered ways of using technology effectively within my classes, made so many new friends and been invited to present at many econferences throughout this period.
I do hope I will carry on blogging for many more years to come!